The history of Team Lotus and its racing cars is inextricably linked to innovator extraordinaire, Colin Chapman. A brilliant structural engineer, Chapman ranks with Enzo Ferrari in the pantheon of road and race car designers. Indeed, Chapman's Lotuses often bested the Italian icons.
Spanning four decades from 1954 to 1994, the Team scored seven World Constructors' titles, six World Drivers' Championships, 79 Grand Prix victories, as well as a host of non championship wins and successes in the lower echelons of the sport.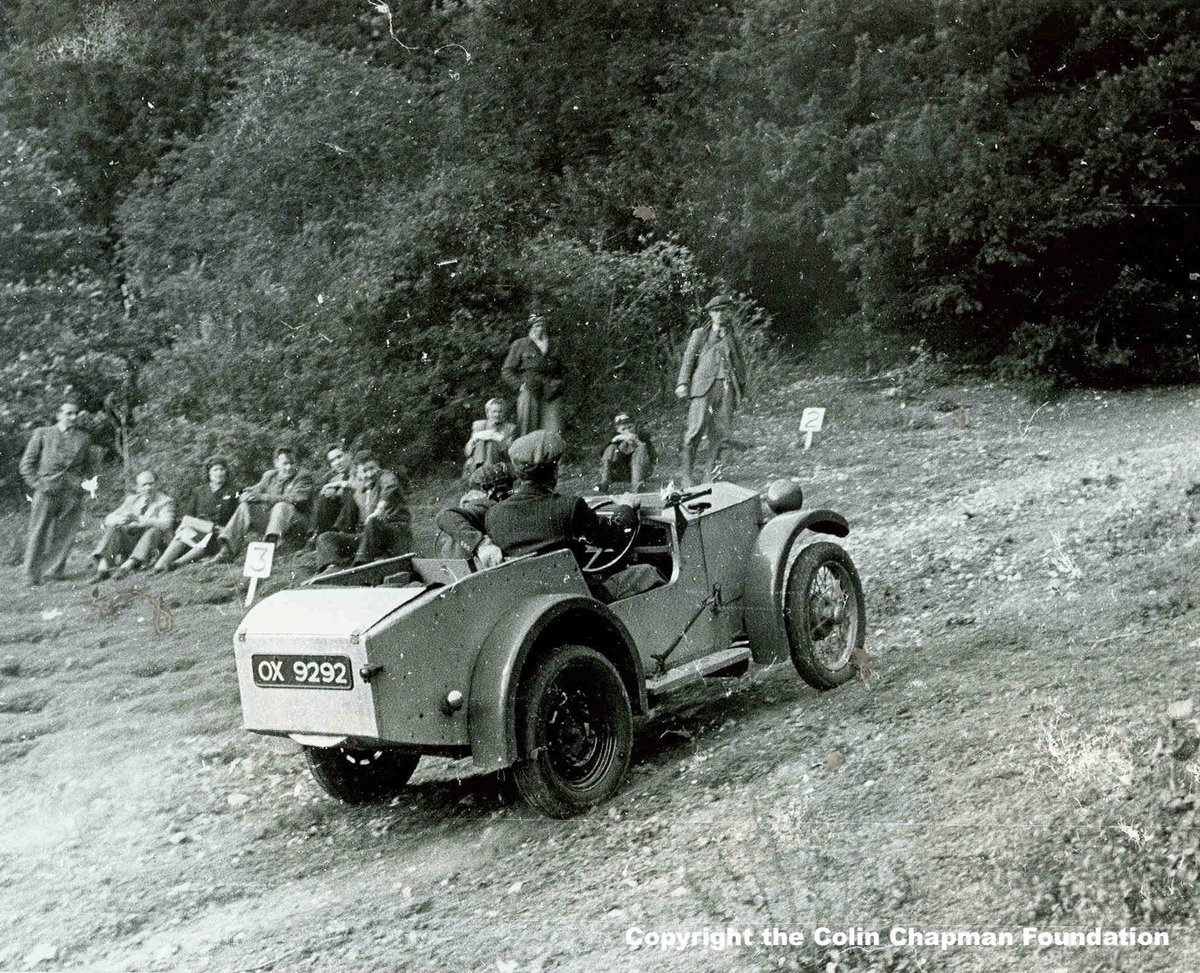 1947 Lotus Mk 1: Colin Chapman's first car, OX 9292.
Born in Richmond-upon-Thames on 19th May, 1928, Chapman graduated in structural engineering at University College London in 1945. Two years later, having learned to fly while doing National Service in the RAF, he built the first Lotus, a trials special, based on a 1930 Austin 7 chassis, fitted with a plywood and alloy body. Retrospectively known as the Mark 1, it prefigured two more Austin 7-based specials which Chapman and his soon-to-be wife Hazel Williams campaigned in trials and club races.
1951: Lotus Mk 3 is the first racing car
The first Lotus to be sought by fellow enthusiasts was the Mark 3 of 1951. It was another gawky, but effective special, built to 750 Formula regulations on a modified Austin 7 chassis, its engine featuring Chapman's divided inlet manifolding and ports. To create these cars, Lotus Engineering was formed on 1st January 1952 at Tottenham Lane, Hornsey, where Colin's right hand man was Mike Costin and Hazel Chapman was co-director. The Mark 4 of 1952 was a road-going sprint car, typically built on an Austin 7 chassis, powered by a Ford 10 engine coupled to a Ford 8 gearbox and Austin 7 rear axle, and clad in an aluminium body.
1953: Lotus Mk 6 is the first production sports car
Chapman's first production sports car was the Mark 6, which was sold mainly in component form. Now though, he introduced a more sophisticated multi-tubular chassis, constructed by Dave Kelsey and Johnny Teychenne's Edmonton-based Progress Chassis company. The Mk 6's aluminium body was crafted by Williams and Pritchard. Normally powered by an 1172cc side-valve Ford engine, the Mk 6 became the car to have in UK club racing in the mid-'50s. In 1955, Lotus became a fully paid-up member of the motor industry, taking a stand at London's Earls Court Show as members of the SMMT.
1954: Lotus Mk 8, the first streamlined sports-racer
As yet, Chapman hadn't ventured into single-seater racing. With a credo firmly based around lightweight construction and small-capacity engines, his forte was still creating fast road-going sports cars with race-winning potential. Then, in 1954, he introduced the first of a series of dedicated sports-racing cars clad in all-enveloping streamlined aluminium bodies styled by Frank Costin. The Mark 8's tubular spaceframe chassis was fitted with a variety of engines ranging from 1100cc Coventry-Climax to 1500cc Connaught units. Team Lotus made its first appearance at Le Mans for the 24-Hours epic at the ill-starred 1955 event, using the Mk 9 model, similar in concept to its predecessor. Chapman and Ron Flockhart drove an 1100cc Climax-powered car, and led their class until the Lotus boss was disqualified for reversing back onto the track after an impromptu nocturnal excursion. Recognised as a hard-charger, Chapman enjoyed plenty of successes in his own cars, as well as Jaguar saloons, and was in line for a drive in a GP Vanwall until sidelined by a practice crash at Reims in 1956.
1956: Mk Eleven sports racing car introduced
Team Lotus introduced two sports-racers in 1955. The Mk 10 was a larger-engined version of the Mk 8, running 2.0-litre Bristol or 2.0-litre Connaught power, and only seven were made, while the Eleven (one of only two Lotus models to have its Mark or Type number spelled out – the other was the Seven) was a more elegant and much more numerous car, with power-plants ranging from 750cc Coventry-Climax via 1100cc Climax and 1172cc Ford to 2.0-litre Maserati. Noted for their immaculate standard of preparation, a trio of works Elevens ran at Le Mans in 1956 (as well as a host of other events such as Sebring and Goodwood) and the Reg Bicknell/Peter Jopp 1100cc Climax-powered car finished 7th overall and won its class. The following year, the Team Lotus Eleven of Mac Frazer/Jay Chamberlain scored an 1100cc class win and Cliff Allison/Keith Hall's 750cc car won the Index of Performance. In 1957, four works Elevens contrived to cross the line together at the 24-Hours' 4.00pm finish, the 750cc car of Allison/Hall wining its class and the Index of Performance once again.
1957: Type 12 Formula 2 car is the first single-seater Lotus.
Earlier that year, Team Lotus constructed its first single-seater racing car, the type 12. Designed to run in Formula 2, it was built up on a spaceframe chassis with an aluminium 'cigar-tube' body, and used a 1,475cc Coventry-Climax twin-cam. The racing team relocated to nearby Edmonton when Williams and Pritchard moved out of their workshops, and the type 12 was made there. Graham Hill debuted the 1.9-litre type 12 in a mixed field of F1 and F2 cars at the Express International Trophy Meeting at Silverstone, finishing 8th.
Meanwhile, in 1957, Lotus launched its first production coupé, the Elite. Based on a monocoque shell composed entirely of fibreglass, reinforced with steel tubing and plates, it ran with a 1,216cc Coventry-Climax engine, and proved just as effective on track as on the road. Equally notably, the Lotus Seven first appeared in 1957, the car that endures to the present day as a Caterham (to whom Chapman sold the rights in 1973) in much the same format as when launched, and provided a stepping stone into motor sport for generations of enthusiasts. Lotus's move to its new Cheshunt factory in Hertfordshire in June 1959 enabled greater production capacity as well as a new base for the racing team.
1958: Type 16 is the first Lotus Formula 1 car
In 1958, Team Lotus came out with its first Formula 1 car; the pretty Frank Costin inspired Type 16. Dubbed the 'mini-Vanwall', it remained steadfastly a front-engined car. But it was over-complex and proved unreliable. Having long been convinced that the front-engine, rear-drive configuration was correct, late the following year, Chapman followed Cooper's example and went for the mid-engined format with the Type 18. This simpler layout did away with the need for a prop-shaft and enabled a more compact design, and Team Lotus never looked back. (Source: Classic Lotus)