Patrick Marie Ghislain Pierre Simon Stanislas Nève de Mévergnies was a former Formula 1 driver from Belgium. He was born in Liège into a well-known Belgian family.
He started racing by attending the Jim Russell Racing School at Snetterton. He even got a job there to help fund his racing, initially as a floor sweeper, then as an instructor.
He managed to get occasional drives in one of the school's Merlyn Formula Ford cars and success led to an opportunity to compete for a full season in 1974, a year in which he won the STP Formula Ford title driving a Lola T340.
In 1975 he graduated to F3. Driving a variety of machines, including a Safir, a March 753 and an Ehrlich Lotus JPS 3B (this was a modified Lotus 73B), he finished fourth in the European Formula 3 Championships.
For 1976 he had a test with Brabham and did a couple of non-championship races before being dropped in favour of Emilio de Villot. He managed to raise the money to rent a drive with the RAM Racing Brabham at the Belgian Grand Prix and also paid for a drive in an Ensign at the French Grand Prix later in the year. Neither drive producing anything of note.
Patrick impressed in Formula 2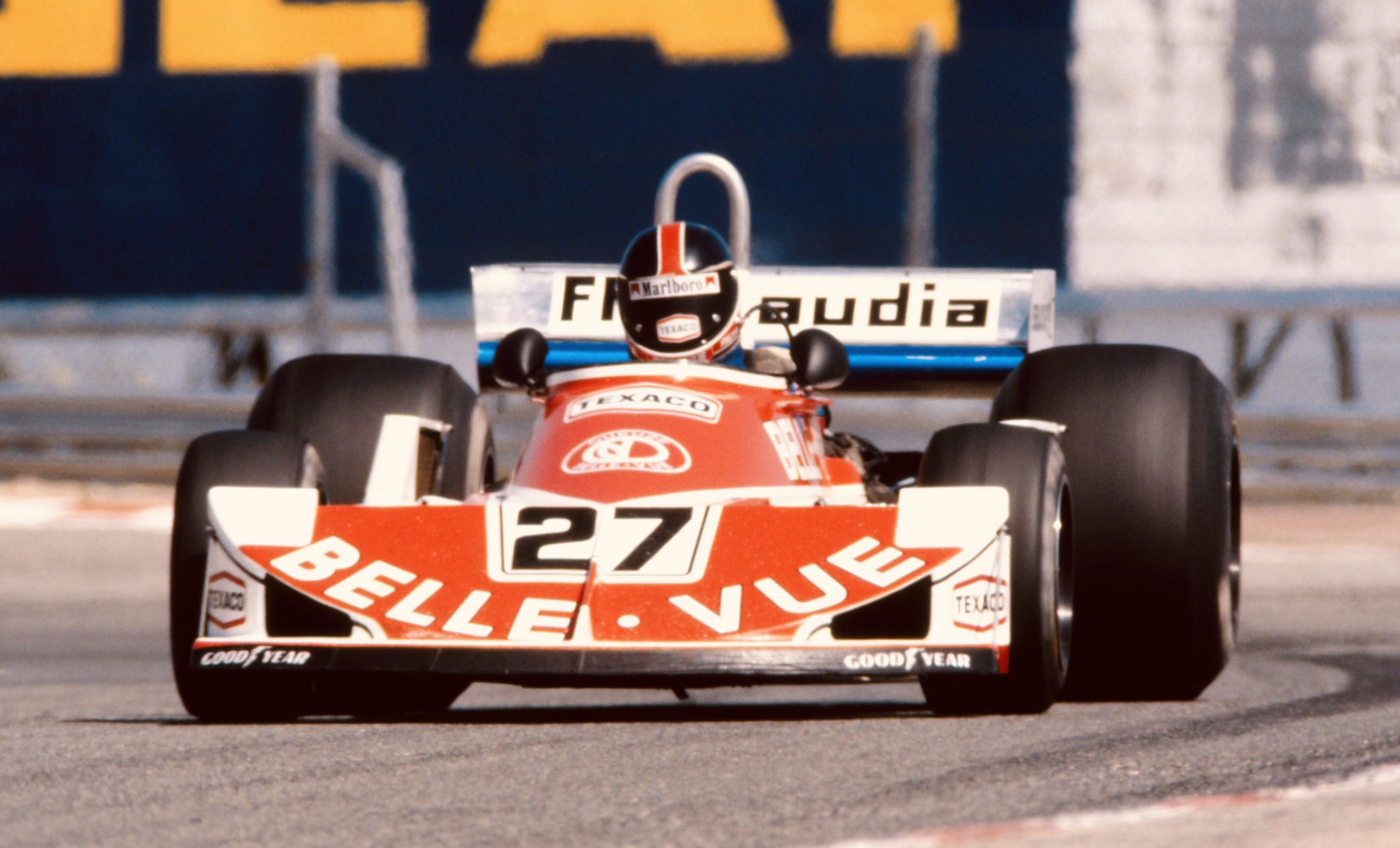 He got a works March drive at the International Trophy Formula 2 race at Silverstone in 1977. He led the race until suspension problems dropped him to third. It was still an impressive showing and on the back of this, he managed to get some money from the Belle-Vue brewery to buy a drive in a March 761 with the post-Wolf Williams Grand Prix Engineering team.
When he managed to qualify the year-old car, he posted some reasonable results including a 7th at Monza. The relationship ended in acrimony after the Canadian GP, and Neve's career never really recovered.
Williams landed sponsorship from Saudia in 1978 and hired Alan Jones. Neve, unable to secure a seat in F1 moved to Formula 2 but ran out of money after a few races. He tried to enter his own March in the Belgian Grand Prix, but failed to qualify for official practice.
In 1979 he was signed to test and race in F2 for Kauhsen who were looking to break into Formula 1. However the car was not very good and when the German's sponsors pulled out, Neve was left to race the unsuccessful Pilbeam.
He later raced at Le Mans and was a regular competitor in the Belgian Touring Car Championship and at the Spa 24 Hours. In the 1990s he entered cars in races under the Patrick Neve Racing banner while also running a sports promotion agency in Brussels. Patrick passed away on 12 March at his home. (Report courtesy of Historic Racing)